Barrett's Meets the Press
---
Chef Charles Appears on Cooking Channel's Doughnut Challenge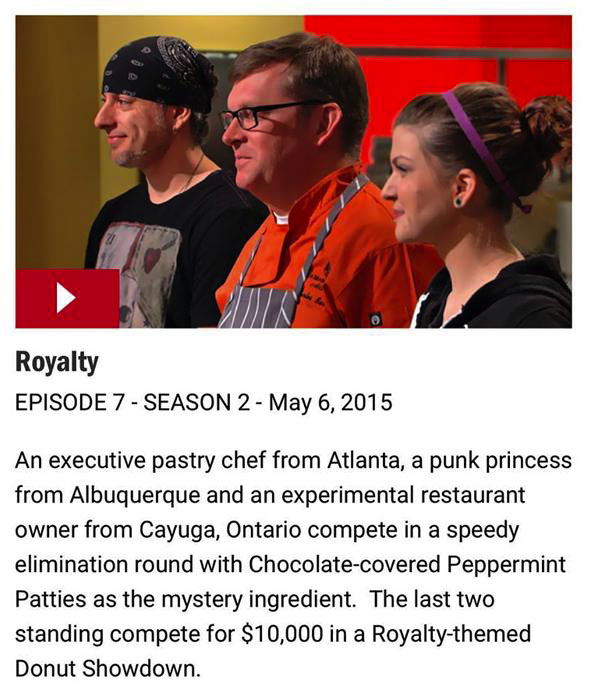 ATLANTA, GA (September 5, 2014) – Known as the mastermind behind the mouthwatering desserts at Park 75 restaurant at Four Seasons Hotel Atlanta, Pastry Chef Charles Barrett will compete on the Cooking Channel's hit culinary competition show, Donut Showdown, airing on Friday, September 12 at 10 p.m. EST.
With over a decade of culinary experience and a personal passion for donuts, Chef Barrett was an ideal candidate for the Canadian hit show.
"I love the creativity that you get to express when creating donuts. The extent of combinations of flavors that you can experiment with is beyond imaginable," says Chef Barrett. "The art of donut is very unique to other desserts; its fun and witty and the kind of dessert that's enjoyable any time of the day."
The show, which began airing in 2013, consists of 26 half-hour shows in the second season. Each episode, three donut enthusiasts head off to a double-round elimination challenge, ulti-mately crowning one chef victorious. During the initial round, all three chefs must create a do-nut including a surprise ingredient picked by the celebrity judges. During the second and final round, the two remaining chefs must bake a large batch of donuts based on a theme picked by the judges. The winner walks away with $10,000.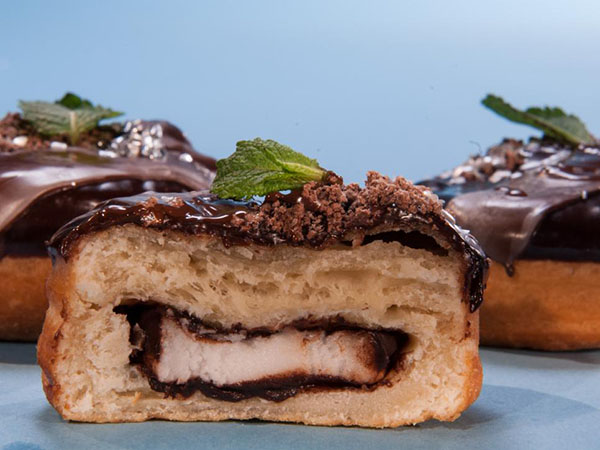 Charles Barrett's Warm Peppermint Pattie yeast doughnut topped with chocolate mirror glaze, chocolate dirt and fresh mint
A tedious challenge, Chef Barrett was not left to fend for himself during the episode. Assistant Pastry Chef Chris Munguia, who has his back in the kitchen at the Four Seasons, competed alongside him. Chef Munguia who helped inspire the donut movement at Four Seasons long be-fore the duo competed on Donut Showdown, gets his inspiration for his donut creations from other food. Among his creations are unique spins on other culinary classics, such as Key Lime Pie, from which he created a donut with an actual mini pie baked inside of it. He also loves mixing the flavor combinations of sweet and citrus, once creating a donut topped with 24 karat gold foil and lime zest. "It's just fun to eat gold," Munguia jokes.
"Together, Charles and I have a very strong partner bond. Put any task in front of us, and we will come out with something beautiful and delicious every time," says Chef Munguia. "Even when put in a position where we are under pressure, the teamwork that we have developed from working together on a daily basis keeps us level-headed and creative."
Four Seasons' Food and Beverage Director, Koji Akaboshi, is very proud of both chefs and eve-rything the entire pastry department has created—from desserts to wedding cakes. '"t's been hard not knowing how they faired in this competition, and I'm looking forward to sitting on the edge of my chair on Sept. 12."
Park 75 is among a few Forbes Four-Star restaurants in Atlanta. Park 75 is located at 75 Four-teenth Street in the Midtown area of Atlanta. Four Seasons Hotel Atlanta is the only Mobil Five-Star, AAA Five-Diamond hotel in the city. Four Seasons Atlanta is located at 75 14th Street NW #2100, Atlanta GA 30309.
Press release to various Atlanta media outlets by M-Squared PR
---
Four Seasons Atlanta presents "Chef Charles Barrett - The Doughnut Tiger"
---
Chef Charles Guides You Through Preparing Creamy, Potato Donuts with a Meyer Lemon Glaze

"I am sure many of you are scratching your head about adding potatoes to your donut dough but I promise it is one of the best flavors you will ever sink your teeth into. Potato donuts are tender and moist especially if you use freshly harvested potatoes that are in season right now. These taste so much better than store bought and you do not need to wait around for the HOT sign to light up; the creamy dough with Meyer lemon glaze just melts in your mouth. If you do not believe me, make a reservation at Park 75 Restaurant at Four Seasons Hotel Atlanta and request these donuts be on the menu. You will not be disappointed.
I met with Charles Barrett, the pastry chef of Park 75 to make these decadent donuts since they were so well received at the Morningside Market. He walked me through each of the steps in detail so everyone can make restaurant quality donuts on their first try. We made the traditional fried donuts as well as baked a batch. The baked ones do not have the same finish as a fried donut but taste pretty close to the original, especially if you brush a little butter on them right after they come out of the oven."
---
Charles and Jackie Barrett Announce New Cake and Dessert Shop in Buford

"A Flowery Branch man and his wife are opening a cake and dessert shop in Buford.
Pastry chef Charles and wife Jackie Barrett are opening the store at 922 Gainesville Highway and will sell birthday and specialty cakes, desserts and baked goods. The shop specializes in interactive children's parties, dessert bars and corporate gifts and events. They also offer private consultations for weddings and events.
---
Pastry Live Profiles Chef Charles Barrett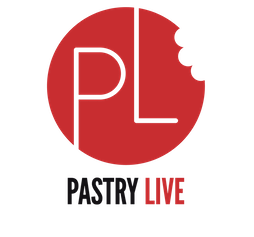 "In January of 2012, Charles Barrett joined Four Seasons Hotel Atlanta as Pastry Chef. He not only brings with him undeniable enthusiasm for the pastry arts, but also many years of experience culled from stops at some notable Atlanta establishments.
His professional training was acquired through a culinary apprenticeship with the American Culinary Federation while working at the Atlanta Athletic Club. Although his early experience was not pastry related, his love of the 'sweet stuff' was cemented after an opportunity to train under Abby Ryland, a former US Pastry Team member. From there, he joined the team at the Cobb Galleria, one of the nation's leading convention centers, and was instrumental in directing the scratch-bake operation. Prior to taking the helm in the pastry department at Four Seasons, Charles led the pastry program for A Legendary Event, an award-winning full-service special events company specializing in catering, design and floral."
---
Pastry Chefs Craft Doughnut Delicacies - Cherles Barrett and Chris Munguia Win Canadian Competition

"Charles Barrett had our attention when he said the magic word: doughnut. But then his lexicon expanded — including such delights as gold leaf flakes, fresh edible flowers, cayenne cinnamon glaze and Earl Grey tea custard filling — and drooling might have become a problem on our part. The Oakwood resident is growing accustomed to such reactions when he talks about his latest confectionery feat."