No matter what the occasion, the addition of custom edible party favors to your celebration will give it a special, thoughtful touch. Whether it's a birthday, graduation, retirement, engagement or any reason to gather friends and family, we're able to create unique individual size treats that accentuate your party theme.
Customized Party Favors are a Fun, Delicious, Colorful Addition for Any Occasion
Some popular choices for party favors include Cake Pops, Iced Sugar Cookies, Rice Krispies Treats, and Cotton Candy. Party favors are available individually wrapped or unwrapped depending on your needs.
Iced Sugar Cookies are a great choice if your occasion would benefit from highly customized item since we can create them in practically shape with icing decoration ranging from simple and colorful to intricately detailed with crisp lettering or logos. Learn more about our Iced Sugar Cookies.
Cake Pops can be created in a wide variety of flavors and colors to match any theme, and could be thought of as bite size versions of our specialty cakes served on a stick.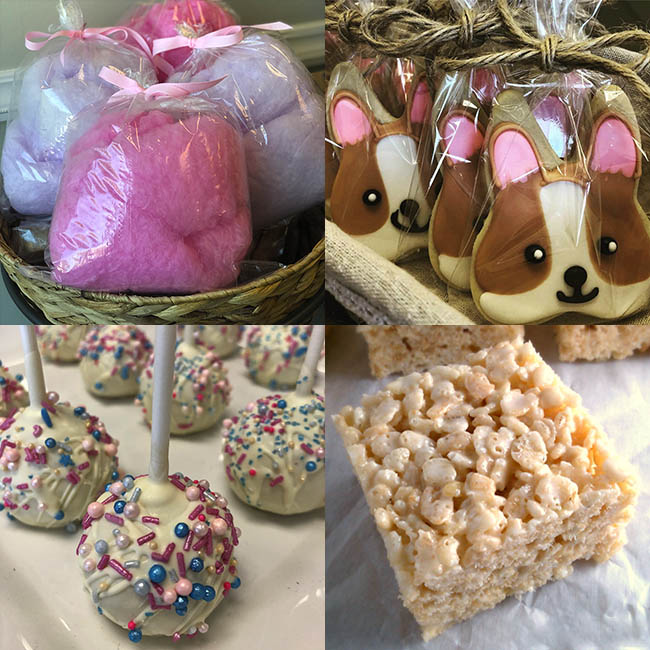 Endless Possibilities For Party Planners
Not sure what party favors may work best for your specific occasion? We can help! Simply stop by our store or tell us about your event, and we'll be happy to suggest some ideas for creative edible treats that will accentuate the occasion and meet your budget. We're specialists at helping create special memories that your family and friends will cherish forever.